Rattan Baskets: Cheap, Multifunction And Eco-Friendly
---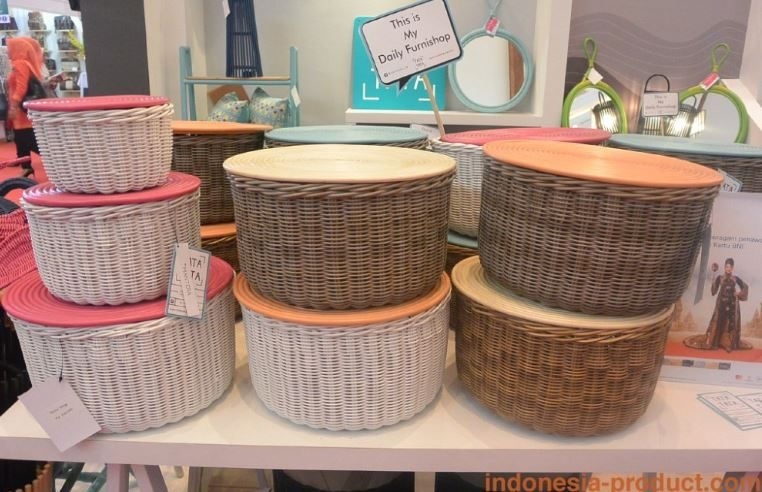 Indonesia saves a variety of natural resources. Rattan is one of them. Rattan is one of the natural material besides bamboo and wood which can be used to make furniture and crafts. Craft from rattan itself comes in variety including rattan baskets, bicycle baskets, flower baskets, fruit baskets, souvenir baskets, laundry baskets, picnic bags, tray baskets, umbrella stands, animal baskets, animal replicas, parcel baskets, delivery basket, baby basket, tissue box and many more.


Rattan baskets are handicraft product that cannot be separated from technology, and development efforts in the creative industry. Baskets are required to have use value, besides having the beauty of the shape, and the beauty of the packaging. Woven baskets made from rattan have unique appearance because they are handmade and finishing carefully. Craftsmen do the process in such a way as to get good results. Baskets that have been processed and labeled need to be included in the packaging so that they are not quickly damaged or dirty. The selected packaging is made of clear mica plastic and tile fabric.


Rattan baskets are of course many benefits. Woven rattan baskets can be used to decorate your room or for other uses. You can also use baskets in wet areas such as bathrooms. And it turns out that rattan basket products are very popular to many people. Beside this natural handicraft products made from rattan are eco-friendly, they are more neat, and have their own characteristics. There are many advantages of baskets made from rattan, especially when compared to plastic baskets.


Durable and minimal maintenance
Baskets of rattan are very durable and strong, can be used for years without being damaged. Rattan also does not need special care because it is resistant to all weather.
Flexible
Rattan baskets are also flexible and can accommodate many items in it, without changing its shape. Rattan will also not be bent or broken.
Light
This type of basket is easy to carry around because it is lightweight, but can accommodate heavy loads. So this basket is suitable if used as a parcel or laundry basket.
Affordable
This is perhaps the most interesting. Rattan baskets have cheap price because the raw material is easily found. So whatever you buy will not broke your wallet.


The webbing used to make rattan baskets make it a basket with natural artistic decorations. You don't even need to paint or decorate it, because the webbing has made the appearance of rattan unique and interesting. So that, the rattan souvenirs are also very popular because they can be funny, unique, and different from the others.