Speciality Of Antique Reproduction Furniture, An Never Ending Old Style Furniture
---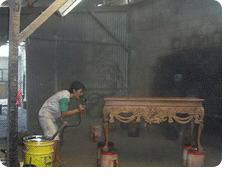 Furniture demands is always too good to be discussed all day long. For business people who run their business in furniture field, of course we can imagine how the magnitude of furniture market opportunities in Indonesia. In addition to the abundance of wood resources, Indonesian craftsmen are known of their very talented skill. They are able to produce furniture products with unique design and have a durable quality.
One of the unique and quite expensive in market's demand is antique furniture. Indeed antiques always have a place in the hearts of furniture lovers. Not only in Indonesia, antique furniture market can penetrate into international markets such as Europe, Asia, and America. If we look at its form, Antique Reproduction Furniture has its own distinctive characteristics, namely from its carving. This furniture tends to be classic, country, and old style. No wonder if many foreign buyers hunting antique furniture. Wood materials used are usually mahogany, teak, and oak. Antique Reproduction Furniture from its wood materials, if we look at under chairs and drawers, anywhere unexposed, to see if those parts are constructed with a different type of wood than the rest of the piece. Real antiques are usually made with more than one type of wood. In the past, carpentry materials were harder to obtain, and it didn't make sense to use expensive wood in places where no one would see it. On the other hand, reproductions tend to be made from the same type of wood from top-to-bottom.
In other side, from the signs how to wear it, genuine antiques will show signs of wear in places that would naturally sustain the most contact. For example, the bottom end of chair arms should be more worn than the upper part or underside of the arm. Scratches, stains and dents will be unevenly distributed on a piece whose flaws are the result of normal use. If the patina is too perfect, there's a good chance it's a reproduction. In Jepara, Central Java, Janoko Furniture is one of furniture companies that produce special furniture products in antique style. Since its established in 2000, this company only focus on making antique reproduction furniture. After reviewing the market details and demand specifications of specific mahogany finishing product designs, Janoko Funriture finally came to a new concept of design furniture products to suit the needs and convenience of market. Various types of wood such as Mahogany (especially), Teak, Oak Pacific, etc. Depending on Customer's choice, Janoko is able to accept custom orders according to the desired design. The company's special emphasis lies in quality control at every stage of manufacture from timber sources, processing, construction, finishing and packing. Each component of the furniture is drained and passed through the hands only skilled and dedicated craftsmen who acquire these skills from generation to generation. They finish each piece with their distinctive touches to ensure that the furnishings offered are not only flashy and unique but also durable to last for years to be used so that they can become the dream of collectors in the future. Janoko designs its furniture products by ensuring commitment to deliver products such as Antique Reproduction, Contemporary Style, Colonial, and Old Country Style. All range is available in all types of colors and finishes.