Onyx Natural Stone Craft Products
---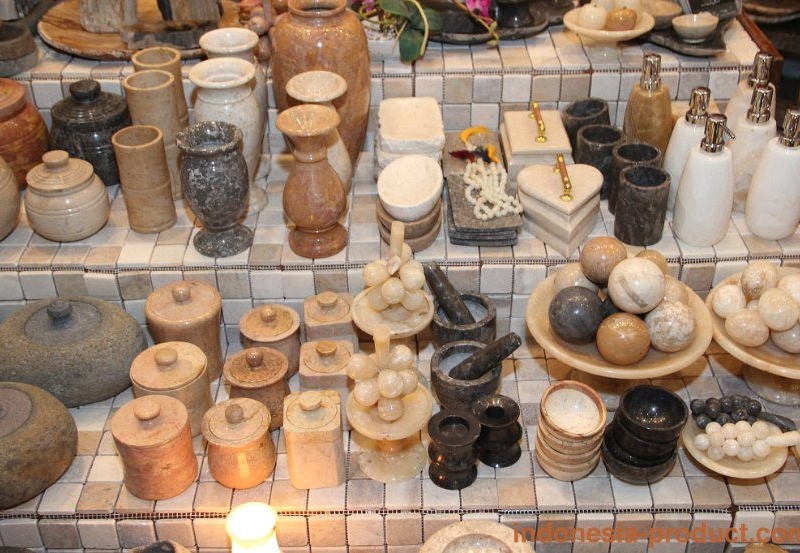 Marble, granite, onyx are types of natural stones that are often used as craft material, mainly used for building finishing. Marble and granite are known as building materials for floors and walls, while onyx stone is famous for its hardness and is often found as sculpture product with a very high price. Onyx stone itself has been transformed into ornaments and souvenirs. The shape also varies, ranging from a lion, eagle, dragon, and many other miniatures. Onyx stone is a natural stone that many found in Indonesia.
Many people amazed to the creative natural stone product because of its unique and varied types. Onyx is a marble natural stone with high level of hardness and the stone is translucent, so it can be used for lamps. Other handicraft products made from onyx stone are tables, vases, various statues, pillars, barrels, jars, cups, ash jars, and imitation eggs.
The process of Onyx stone craft products is quite long. Initially, large chunks of onyx stone about 5 tons weight were cut. Next, the stone pieces are turned, then shaped. After shaped, for example a table, polishing or sanding is done up to five times until the stone texture becomes smooth and shiny. The end result is an artistic onyx stone table.
For handicraft products, often used to decorate the house. Some onyx products such as egg-shaped onyx, animal miniature, or other onyx sculptures are placed in a buffet or side table to add natural elements to the space. Some carvings are feared to break easily if they fall from table, so it should be kept away from children if you have children at home.




--sh
http://indonesia-product.com/