The Embroidery Art in Indonesia
---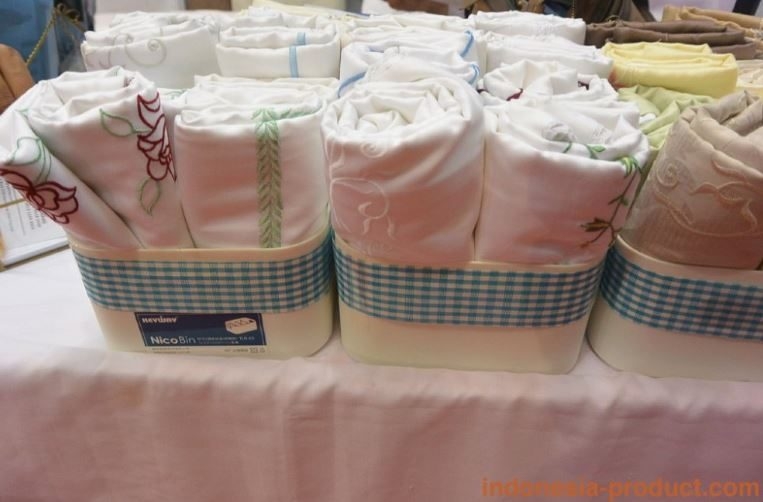 The art of embroidery decoration has been found long ago. This decoration first appeared in Byzantium in 330 BC. Definition of Embroidery according to the Complete Bahasa Indonesia Dictionary is the decoration of knitted yarn on fabric.


Tasikmalaya city is one of central areas of embroidery industry in Indonesia and embroidery is the city's superior product. Tasik embroidery cloth is the absorption product from Chinese culture. But thanks to skilled and resilient hands, embroidery prodcts applied on veil, kebaya, mukena, tunic, scarf, blouse, skirt, bed sheet, pillowcase, tablecloth, robe, koko clothes, hajj cap, and even daily clothes are decorated with attractive embroidery.


With the support of the Tasikmalaya City Government, embroidery entrepreneurs get market location in the Tanah Abang Market in Jakarta as a center for selling Tasikmalaya Special Embroidery. Besides the local market, Tasikmalaya Embroidery has also penetrated the international market. Among them are exported to Malaysia, Singapore, Brunei Darussalam, Saudi Arabia, Middle East countries, Egypt, and Africa. The expansion of the embroidery market is inseparable from the cheap price of Tasikmalaya Embroidery, but the quality is quite good and reliable.


Embroidery Process
For the embroidery process itself, it can be done by two types of machines; electric machines and sewing machines. The results of products with those two machines are not too different, only, the Embroidery results using a sewing machine look more natural and not rigid. Embroidery technique itself requires special skills, requires perseverance and patience and thoroughness.


Fabrics that have been drawn with Embroidery motif patterns, are then sent to the Embroidery production section for processing. By using a special tool, the fabric is finally added with Embroidery ornaments, while the color is adjusted to the design.


Besides Tasikmalaya, the East Java region also has Embroidery center. The regions cover several cities. Among them, Malang, Probolinggo, Trenggalek and Pasuruan. Even Sidoarjo and Mojokerto also present their special Embroidery art.


Not to mention the ones in Lumajang and the East Java capital, Surabaya. Embroidery decoration products that are marketed of course come in diverse. Not only cloth that is given embroidery but is a fulfillment of clothing needs. Starting from female tops (blouse) and skirts, vests, veils. Muslim clothing, bed cover, and many more.